This year's Christmas celebration has started at Casumo, and it's a big one! Open your daily chests and find casino gifts such as bonus spins or deposit bonuses, or upgrade your chests for a chance of winning huge prizes such as a trip to Zanzibar or £10.000 cash. Casumo's Super Snowball promotion has gifts for everyone!
Open daily chests and get rewards at Casumo
If you're looking for something to spend your time with while you're counting down to Christmas, look no further than Casumo's Super Snowball promotion. Until the 16th of January, you will receive a daily wooden chest when you log into your Casumo account. This chest can contain many different casino goodies, so make sure to open it every day so that you don't miss out on them! While the wooden chest is added to your account automatically, you can choose to upgrade it to silver, gold or diamond for an even better reward. To upgrade your daily chest, you just need to make one of the following deposits:
Silver Prize Chest: Deposit £20 - £49 
Gold Prize Chest: Deposit £50 - £99
Diamond Prize Chest: Deposit £100 or more
The better the chest, the better the rewards, but the upgraded chests also contain Snowballs that you need to collect in order to enter the weekly draws. Do you stick with your wooden chest, or do you upgrade it to get a better reward? The choice is yours.
Casino
Free spins
Rating
Play now

£50 BONUS
20 BONUS SPINS
T&Cs Apply

5/5

 
Weekly draws at Casumo with cash and prizes
Every week during Super Snowball, there's a weekly draw that has an awesome prize in store for the lucky winner. To enter the draw, you must collect four Snowballs during the week. Casumo will give you the first Snowball, but the rest must be unlocked from upgraded daily chests. Once you've collected enough Snowballs, you'll automatically be entered into the weekly draw where some really awesome gifts can be yours.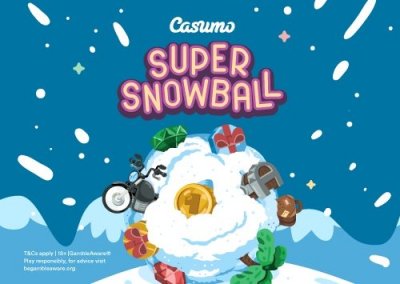 Here's the full weekly draw schedule:
December 4th: Zanzibar trip and Tanzania Safari
December 11th: £10.000 in cash
December 18th: Brand new Harley-Davidson Street 750
December 25th: £10.000 in cash
January 1st: Digital Jukebox Sound Leisure
January 8th: Tech Bundle
January 15th: £10.000 in cash
You probably won't find any gifts as nice as these under the tree this year, so keep opening the chests for a chance of winning the ultimate Christmas gift! Visit the promotion page at Casumo to learn more about the chests and the draws, and make sure to read the full bonus terms and conditions.
---
Other posts